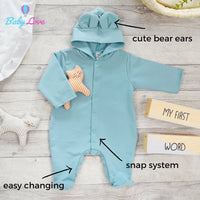 Key Factors to Consider When Buying Baby Clothes
So, you are going to have a baby! Congratulations! Your baby is the most precious gift you will ever receive. And during this time, most parents can't wait to gather the best pieces for the first wardrobe of the new life. And you are not an exception. Right? But with so many options available on the market, it can be overwhelming to decide on the best pieces for your baby's wardrobe. 
You want your baby to be comfortable and safe in every outfit. Hence, before you buy your baby clothes, it's best to consider the following factors.
Things to Keep in Mind before Buying Baby Clothes
Many parents today purchase baby clothes online due to their high quality. Our store offers a wide selection of clothing items in various sizes. But when selecting items from our store, it is crucial to consider the following factors.
Fabric
As a new parent, it's natural to want to dress your baby in cute and stylish clothes. However, it's important to consider the fabric of the clothing, as some materials can cause irritation and rashes on a baby's sensitive skin. While it's tempting to splurge on fashionable outfits, it's pivotal to prioritize your baby's comfort and well-being.
Safety
As a busy parent or family member, it's easy to overlook the importance of safety when shopping for baby clothes. However, it's crucial to prioritize safety to avoid potential hazards. To ensure the safety of your baby's clothing, avoid purchasing items with choking hazards, such as bows, buttons, flowers, and hooks. 
If the clothing must have decorations, ensure they are securely attached. Remember, the safety of your baby should be your top priority when shopping for clothes.
Size
It's important to ensure you buy clothes that fit your baby properly to avoid disappointment and the hassle of exchanging them. To find the right size, you can refer to standard measurements, but keep in mind that babies often fall in between sizes. 
Hence, it's a good idea to buy larger sizes to allow growth and choose clothes that are easy to put on and take off. Besides, consider practicality over fanciness when selecting baby clothes. In online stores, whether it's rompers or sleeping suits, size is mentioned for each clothing item. 
We hope these guidelines will make your shopping experience more manageable. In addition, our wide selection of baby clothes and essential items can assist you in finding the best clothing and accessories for your needs. So, why wait? Place your order online from us! And Take a look at our new arrivals.